Essence razor
Regular price

SFr. 319.00 CHF

Regular price

Sale price

SFr. 319.00 CHF

Unit price

per
Shipping

When ordering from outside of Switzerland we will discount 7,7 % VAT tax in the checkout.


Switzerland
1 to 2 working days


Europe
3 to 5 working days


USA / Canada
5 to 8 working days


Rest of the world
7 to 10 working days
Material


- 17-4 PH Stainless Steel
- Hard anodized aluminum


Razor blades


- Standard half double edge razor blades
- Single edge injector razor blades
- Feather Artist Club Blades
- KAI razor blades
- Injector razor blades


Measurements


- Length (when open)

238 mm

- Length (when closed)

189 mm

- Max. razor blade lenght

50 mm















The Essence razor is an exclusive shavette that stands for craftsmanship, design, and attention to detail. It gives you the flexibility to use different razor blade types while retaining the classic aesthetic of a high-quality straight razor.

Every Essence razor is made out of nothing but the purest and highest-quality metals and. This metal is formed into solid billets and moved to a state-of-the-art facility where each part is individually CNC-machined on a lathe in one operation to achieve an incredible degree of precision.

After years of research, hundreds of prototypes, and relentless dedication to mastering the creation of Essence, we continue the pursuit of perfection to make every Tedalus product a lifetime investment.
Wonderfully Engineered and Beats out the Feather DX
A wonderful concept and typical European Sexy. As a Master Barber I can see getting another one for the shop, in those cases where time does not allow for a regualr straight razor shave for clients. Although the Feather DX is wonderful, this has all the "Right Stuff" and is better in my opinion. Some May scoff at the price, but how well it's form function and user friendly functionality make it the best. I will never probably use all the blade options, but it is nice to have that availability. It provides a wonderful shave, and the stand alone is worth the price of admission.
As a Shaving Forum owner, and having been a straight razor user for decades, I see a Ton of New Products, and this one really hits the mark.
Only one small complaint, as my razor came with some blemishes on the "blade" mostly looks like some tool marks and will not rub out, but not enough to be upset about.
I Recommend this for both personal and professional use, and I will probably pick one up for my Barber Shop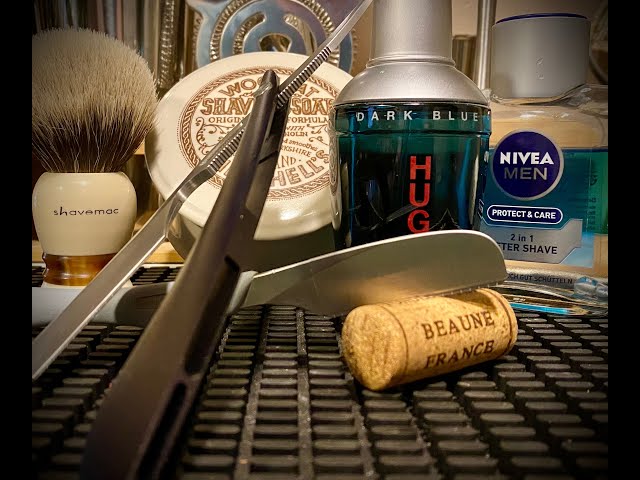 Hello David
Thank you so much for your detailed, review, the picture, and the video!
I wish you many more great shaves with the razor!
One of a kind razor
First of all, the costumer service was astonishing. So helpful in so many ways. My husband opened his birthday present and was so overwhelmed. He said it was the best razor he's ever had in his hand. And he's had a few….
Definitely worth the money!!
Thank you so much, Mary, for your review.
We're happy to hear that your husband was overwhelmed with his present!
Thank you again for your order.
Quick version: Amazing razor / shavette in all ways and I am very, very happy with my purchase, with zero regrets.
Long version: I am one of the first owners of the Tedalus dating back to its initial release. It checks all of the boxes in terms quality, appearance and shave experience, all of which combine to represent tremendous value and (six months later) leave me with no regrets for my purchase. The quality and finish can easily been seen and felt in hand. Its stylized appearance somehow also manages to include other elements that add to the comfort of use, such as long monkey tail and thumb notch. The streamlined head offers an authentic straight razor-like shave experience, albeit without the hassle of stropping. While this takes DE blades as well, I have only used this with AC blades, which have a degree of rigidity that enhances the level of control. It is quite easy and safe to load and unload the blade, with no moving parts or springs, so it is easy to dry and there need be no worries of something loosening, breaking or the shavette rusting. These days I find myself preferring the "traditional" shaves of straight razors over those of safety razors, but I do not always have the desire or time to strop, so the Essence will always have a home with frequent use.
Hello Chris
I'm really happy to hear that you are still satisfied with the razor.
Thank you very much for this valuable feedback.
I wish you many more great shaves!
What a Razor!!!!
It took me a while to get this razor because of the prize. But when I finally got it the only disappointing part is that I don't get it sooner😂 the quality of this razor is second to none. And how smooth and easy it is to hold, well balanced and not that heavy just the right weigh. I love this razor it has become my favorite razor in my den. Beyond satisfied 🙂
Thank you so much Ramiro for your great review!
I wish you many more great shaves!
fabulous razor
I have been using a Feather AC shavette as well as a range of DE razors for a while now. Saw reference to the Tedalus on my favourite forum (the shaving room) which certainly attracted my interest.
Finally took the plunge a few weeks ago and have now had a couple of shaves with the essence.
First impressions - the quality is absolutely exquisite - a real labour of love from Manuel, and I think this must be one reason why it just feels so nice to handle.
In use it's an absolute pleasure to use - so nicely balanced and the blade section is so fine you can use a much flatter angle than with the feather.
It's also very easy to hold like a kamisori - which i can never do with the Feather.
So I'm delighted with my new razor - a work of art that performs perfectly
Thanks Manuel
Thanks for this great review Paul!
I'm pleased to hear that you have so much joy shaving with your new Essence razor!
We wish you many more great shaves!
Great Innovation and detailed craftsmanship let's get these barber tools to the next level. I'm glad I'm part of the 333 limit club.
Thank you so much for your review Victor. Welcome to the club :)!
We're happy to hear that you like our razor.
The Essence is the closest you can get to the feeling of a traditional straight razor.
I have tried all the big name shavettes and up until now my champion was the Feather DX. The Essence is a breeze to load and takes Feather Pro style, injector and DE blades without requiring any modification or sleeves. Despite using magnets the blade was very secure. The feeling is truly like using a 5/8 straight razor, I love the thumb notch, it has enough weight that you feel in control. I also enjoy the ease with which you can tighten the pins.
If you want a straight razor experience without the honing and stroping this is an excellent choice. Or if you are like me, want a travel razor but do not want to travel with a traditional straight razor the Essence is ideal . The Feather DX has been replaced by the Essence.
Thanks for this amazing review Keith!
That's excatly what we tried to achieve with the Essence razor!
Happy to know that the Essence razor is in such good hands!
We wish you many more great shaves!
The Essence Fully Captured
The Tedalus Essence accurately captures the essence of shaving with a straight razor. The design is sleek and the balance is perfect. This razor comes as close to shaving with a straight razor as one could come without actually using a straight razor. Well done.
Thank you so much for your review Nicholas.
We're happy to hear that you like our razor.
We wish you many more great shaves!
5 stars
Great razor been using it for the past 40 days.
Thank you Vahe for your review!
I wish you many more great shaves!
A Ferrari
I shave every day with straight razors. After shaving with the Essence, it's my razor preference. Incredible balance, amazing engineering and design. With a Feather pro or pro guard you get a very close comfortable shave!
Thank you very much for your review! We're happy to hear that you like our razor so much!
I wish you many more great shaves!