ESSENCE
THE WORLD'S FIRST STRAIGHT RAZOR
IN A REPLACEABLE BLADE FORMAT.
ENHANCING YOUR SHAVING EXPERIANCE
The Essence razor is a revolutionary shavette that replicates a traditional straight-razor experience without the maintenance that comes along with a traditional straight-razor.

It gives you the possibility to use your favourite razor blades while crafted out of high quality materials to be a lifetime investment.
Essence Razor
---
We ship worldwide with Fedex international express.
---
UNIQUE & TIMELESS
A new way to experience an old tradition.
The Essence razor originated in a love of eye-catching design, produced using the highest-quality materials. We adore the close attention to detail seen in custom-made straight razors and combine this with the practical features of a modern Shavette.
RAZOR BLADES
Our advanced blade loading mechanism allows razor blades to be replaced fast, easily, and safely.

But it also goes on a step further with the use of a variety of different razor blade types. These include DE blades, feather AC blades and mini-injector razor blades.
SHAVING GRIP
ERGONOMIC DESIGN
The fierce long tail gives the Essence razor a unique appeal and allows for the fullest range of grips, from traditional style to barber.
NON-SLIP GRIP
Aggressive jimping at the top and the bottom of the tang allows for a non-slip grip, even while wearing soap-covered nitrile gloves.
PRECISION GROOMIN
With a deep thumb notch, designed for a choke grip, this feature is loved by Barbers for its ultra-precise detail work
SHAVING ANGLE
Bringing you close to a real straight-edge experience, the razor has a sleek wedge-shaped grind which offers more freedom to angle your blade just the way you want to.

Ergonomically designed, the razor blade feels like a natural extension of the blade holder. It adds to the authentic straight razor shaving experience
PERFECTLY BALANCED
Optimal weight and perfect balance ensures a comfortable shave.
A strong stainless body offers the best support for an intuitive and forgiving shave. A sleek aluminium handle acts to counterbalance the stainless-steel blade holder, creating the perfect balance from every angle.
A LIFETIME INVESTMENT
The Essence razor is crafted from the finest metals to be a lifelong investment
The Essence razor is not just another everyday razor. If you just look for a regular shavette that gives you a nice shave. Essence is not for you. This razor is built for men who value design, craftsmanship and the ultimate straight razor shaving experience.

Every Essence razor is made out of nothing but the purest and highest-quality metals. This metal is formed into solid billets and moved to a state-of-the-art facility where each part is individually CNC-machined to achieve an incredible degree of 0.05 mm precision.
Is the razor resistant to corrosion? 

Yes, our razor is resistant to corrosion, thanks to its construction from high-grade 316L stainless steel.
What type of razor blades does the Velocity-ONE razor use?

The Velocity-ONE is designed to use standard double edge razor blades, which can be purchased from a variety of stores and online shops arround the world.
Is the razor eco-friendly?

Yes, our Velocity-One is a proudly plastic-free razor. It is entirely constructed from 316L stainless steel. Furthermore, it utilizes standard double edge safety blades which are also environmentally friendly.
Can you describe the process of how the razor is made?

Our razor is meticulously crafted through a process known as CNC machining, where a solid block of 316L stainless steel is intricately shaped. After machining, each razor is hand-finished by industry experts to ensure exceptional quality and
finish.
Is the razor resistant to corrosion?

Yes, our razor is resistant to corrosion, thanks to its construction from high-grade 316L stainless steel.
Doyou ship internationally?

Yes we offer international shipping for our customers around the globe.
What isyour return policy?

We offer a 30-day return policy. If you're not completely satisfied with the razor, you can return it within 30 days of receipt. Please ensure the razor is in its
original condition, with original packaging and all accompanying documents.
WELCOME TO TEDALUS
Located in Lucerne, the heart of Switzerland, Tedalus stands as a testament to the blend tradition and contemporary aesthetics. We are dedicated to crafting exceptional grooming instruments that merge time-honored traditions with modern design.
LEARN MORE
Way Beyond Expectation!
I knew from the outset it wouldn't disappoint, but, realistically, how much better could it possibly be as compared to other AC razors? Well, it's streets ahead of anything else in the category! Immediately feels natural in your hand. The very first shave felt like I'd been using it for a while. Manoeuvrable, not too light and super efficient. Nothing comes close to it, in my humble opinion. The stand makes it for a beautiful display too, so, if in doubt, definitely buy paired with the stand. The only drawback: you might feel the urge to shave more often than usual.
Thank you very much for your positive review!
I wish you many more great shaves.
Excellent
Fit and finish is excellent. Solid
Thank you very much for your positive review!
I wish you many more great shaves.
New Shavette in Chicago
Great quality. Great that any blade can fit. Super easy to load as they fit like a glove. I look forward to continue to practice with it.
Hello Andrew
Thank you very much for your positive review!
I wish you many more great shaves.
Essence X3
This is actually my third essence razor as a Professional Barber in Barbershop Owner. I have found that when I'm not using an actual straight this is the closest to that. I also have one that I use regularly at home and one in reserve just in case it's a fantastic piece of machinery, and the closest you will ever get to a true straight razor and that's coming out as only a enthusiast but also as a professional Master Barber. Paired with a feather pro guard blade. It is just perfect.
David Eisenhuth, Master Barber/Proprietor
Hombres Barbershop at SaddleBrooke Ranch
@barberdave on Youtube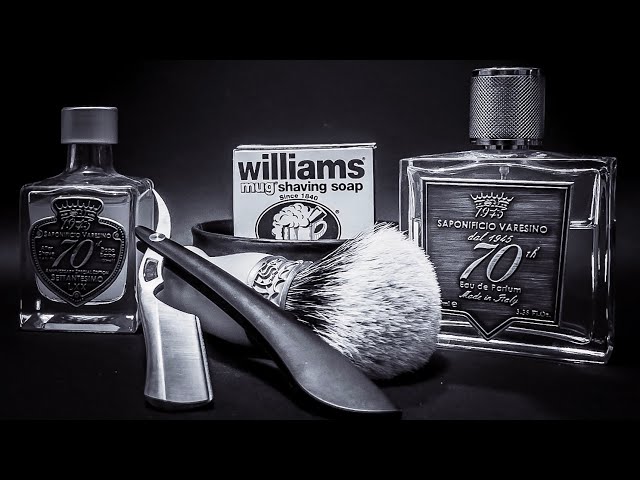 Hello Dave
Thank you so much for your detailed and positive feedback and sharing the video! We're thrilled to know that our Essence Razor meets your high professional standards and that it's become a dependable tool both at work and at home.
Das beste was ich jemals hatte
Ich bin ein totaler Rasiermesser Fan und habe einige sehr gute unter anderem Messer von Koraat , aber durch eine Empfehlung kam ich zu Tedalus und bekomme nicht mehr genug davon . Die Verarbeitung, die perfekten Rasuren , ich bin ohne Worte , genial
Hallo Klaus
Ich bedanke mich aufrichtig für Dein Lob und freue mich riesig, dass Dir unser Essence Rasiermesser so gut gefällt.
Excelente
Excelente terminación, cómodo el sistema de carga de hoja. Comido afeitado
Thank you very much for your review Tomas!
Best Shavette ever!
Die beste Shavette, die ich jemals in Händen hielt! Großartig verarbeitet! Geniales Handling! Und die Kundenfreundlichkeit bzw Service sind vorbildlich! Sehr freundlicher Kontakt und super schnelle Lieferung! Vom Rasurergebnis könnte ich nicht zufriedener sein! Love it 😍
Hallo Ralf
Vielen Dank für die tolle Bewertung und die netten Worte!
Wir wissen dies sehr zu schätzen! Ich wünsche Dir noch viele tolle Momente mit Deinem
Essence Rasiermesser.
Very good and high quality i love it , i am a barber I use it for single edge and feather blades it's so easy to use . If you want to make your life easy just purchase Essence razor.
Tedalus Shavette
Very good shavette perfectly finished! Lies very well in the hand and is perfectly balanced. For me stand the half blades a little too far out, unfortunately, could not try various other blades such as Feather or Kasho. Nevertheless, it is very high quality razor and well made. Would me at any time to get one again!
Master hairdresser and barber for 20 years.
With shiny J.Thomann
Hello Thomann
Thank you so much for your review! I highly suggest that you try Feather blades if you have the opportunity. To me, the razor shows its full potential when it is used with single-edge blades such as Feather, Schick, etc.
I wish you many more great shaves!
A Feather AC and Kai Captain users impressions
I've been using a Kai Captain or Feather Artist Club DX/SS/SR to shave with and have been very happy. So when I learned about the Essence, I first thought "I don't need that, it won't do anything my Kai/Feather does". Then I had some cash to spend on myself after a while and decided to try it.
First things first, the stand: It's nice and heavy, doesn't topple over, and looks neat. It's very practical and does what it's supposed to.
The razor tho, is the main feature. First off, it looks really good (and when placed on the stand it really looks good). But when you pick it up, you feel something else: build quality. It's got good weight, and it's extremely well-balanced. The razor feel solid in your hand and it doesn't get slippery, the grip is great even with soapy and wet fingers. The very thin spine (much thinner than the Feather AC DX) allows for a much shallower angle meaning the shave is even smoother than what the Kai or Feather's can provide. Simply put, the Essence gives me a better shave than the competition, exceeding them in the build quality, shave quality, and esthetics departments. My Kai and Feather's are retired now, leaving the daily shave to the Essence.
In short, if you're on the the fence because you already have a Feather or a Kai: Get the Essence. You won't regret it.
Wow! Thank you very much fo this great review Fredrik!
It makes me happy to hear that you value your Essence Razor that much and it motivates us to cuntinou focusiong on delivering the best quality and design.
We wish you many more great shaves!